Hello. It's Janine. Thanks for having lunch dinner whatever meal it is right now with me. I'm the new addition to Ju's blog, and, yes. It's that punky chick.
Here's a little about me. I:
can't be bothered with grammar, so if you see any mistakes, don't go all OCD on me please.
am going to dye my hair blue and purple in the summer. NOT ALL OF IT. Just a chunk in the back.
am obsessed with punk pop/emo music. (Fall Out Boy, Paramore, Panic at the Disco, All Time Low, etc.)
hate hate HATE country music. Sorry, people who love it.
love the Vampire Diaries and Hart of Dixie (totally wasn't expecting that, by the way).
am, strangely and unlike everyone else on here, not COMPLETELY obsessed with makeup and fashion. The key word being "completely".
~~~~~~~~~~~~~~~~~~~~~~~~~~~~~~~~~~~~~~~~~~~~~~~~~~~~~~~~~~~~~~~~~~~~~~~~~~~~~~~~~~~~~~~~~~
so let's see whats in store for today.
APPETIZER: Music of the Week Day Week
ENTREE: Nails Galore! (Review+NOTW)
DESSERT: Disneyland, Gloves, and Other Wacky, Woolly, and Nerdy Stuff. (HAUL)
DOGGIE BAG: Blurb of the Day
~~~~~~~~~~~~~~~~~~~~~~~~~~~~~~~~~~~~~~~~~~~~~~~~~~~~~~~~~~~~~~~~~~~~~~~~~~~~~~~~~~~~~~~~~~
appetizer
Music.
Yup,  I'm typing from this side. I feel like it needs a little love. Everyone goes from the left, you see.
So,  as you can probably tell from above, my musical tastes are quite different from the average mainstream joe shmoe.
Which, obviously, isn't a bad thing. Until you start talking about songs you like and all you get are blank stares, or those "Yeah……….*nod, nod*" moments. So now I get to bore the INTERNET with my taste in  music. Hope y'all don't fall asleep. If you want, I can always ask the waiter to let you skip directly to the entree if you like.
He says its fine. You don't have to have your appetizer if you don' t want to.
But if you wouldn't mind, have a bowl of this delicious emo-punk-ish-musical-mess bowl of soup.
AAAAAAAaaaaaaaaaaaaaaaaaaaaaaaand back to this side. Oh, you want to hear the ingredients? Okay. Ingredient 1:
Song of the Week Day Week
Honestly, it changes all the time, but currently it's Sleepless Nights by Faber Drive, and it's desperately emo. It's about abuse, and it's really sad, but a good song nevertheless! Here's a pic of the band.
(Picture from: sweetslyrics.com)
I seriously love their album Seven Second Surgery's cover though. It's hilarious. It doesn't get much better than a psycho doctor with a drill.
(Picture from: popstarplus.com)
Ingredient 2:
My Favorite Band (of the Moment)
BOYS LIKE GIRLS!!!!!! WAHOO! I love all their songs, and they make me so happy! (Though their band name is not always true…haha.) Some favorites are "On Top of the World" and "Thunder". (:
Here's a pic of them. Martin Johnson (in front, with the awesome hair and eyes and the weird pose) is drop dead gorg!
(Picture from: linkinpark.com)
Ingredient 3:
Bands I'll Always Listen To. No Matter What. This Week's Edition: PARAMORE!
PARAMORE! Love them! Some favorites are "Careful", "Playing God", "Brick By Boring Brick", and "Hallelujah".
(Picture from: pammiepedia.com)
Woah, we finished our appetizers pretty quickly. Let's go onto our ENTREES!
~~~~~~~~~~~~~~~~~~~~~~~~~~~~~~~~~~~~~~~~~~~~~~~~~~~~~~~~~~~~~~~~~~~~~~~~~~~~~~~~~~~~~~~~~~
entree
Nails Galore! 
Ohh, a review on nail polish! Good choice for an entree. I got NOTW. Dig in!
Review- Nicole by OPI Wild Blue Yonder MATTE
Well. Where to begin? Obviously the color's AMAZING. But that's about where it ends.
Also, I forgot to take a pic of it when it just painted my nails with it, so here's a pic of it on someone else's fingers.
(Picture from: ebay.com) -> Guess someone's trying to sell it lol.
I don't expect much from a nail polish. I expect it to be the ultimate accessory, for it to go on nicely, and to stay on with only tip wear for at least 4 days. But take a look at my fingers after 3 days!!!
DO YOU SEE THOSE GIANT GAPS AND CHIPS!!!!! Grrrr…Nicole (by OPI), whoever you are, I'm coming for you! 😛
Another giant chip. I swear, Nicole, this is going to end badly.
(Ignore the writing on my hand. It says "Smile like you mean it!" inspired by the song by The Killers.)
Even more chips. This is getting ridiculous.
Okay, that's it for the pics. Also, about the formula…how can you say this nicely? IT SUCKED. It dried quickly, which is nice, but this dried so fast that it started clumping up and turning goopy WHILE I was still painting my nails! THIS NAIL POLISH IS BAD! DON'T BUY IT!
Sorry about that little rant there. Now, for NOTW.
NOTW- Gold, and Blue, and Crackled All Over
This week, I did something unexpected. I gave Nicole by OPI another chance, even after that horrendous affair last week. I used "Too Rich For You" from the Gossip Girl collection, and crackled over my ring finger (index finger on right hand) with Gold Shatter by OPI, which I just got yesterday. (:
In the dark, on the car. Look at that shine! One word: GORGEOUS.
Under bright artificial light (not sunlight)
Close up on ring finger (Ignore the excess polish on my skin, I was hurrying.)
On my desk, with my new Dr. Dre Beats in the background! (More on it later, in the haul.)
I'll review these polishes next week in a review, but look at that shine! I didn't even use a top coat for the pics.
Dessert time…everyone's fave. And you saved the best for last, I see. A haul!
~~~~~~~~~~~~~~~~~~~~~~~~~~~~~~~~~~~~~~~~~~~~~~~~~~~~~~~~~~~~~~~~~~~~~~~~~~~~~~~~~~~~~~~~~~
dessert
HAUL TIME! Wacky, Woolly, Nerdy Stuff
So I went to Disneyland on Veteran's Day with my school's music department. Ju's part of it too, but she didn't go. 😦 And, of course, I brought money with me. And, of course, I had to go out and buy something. So I got some Jack Skellington fingerless gloves! I forgot to take a pic for this post, so here's one from the Disney Store website!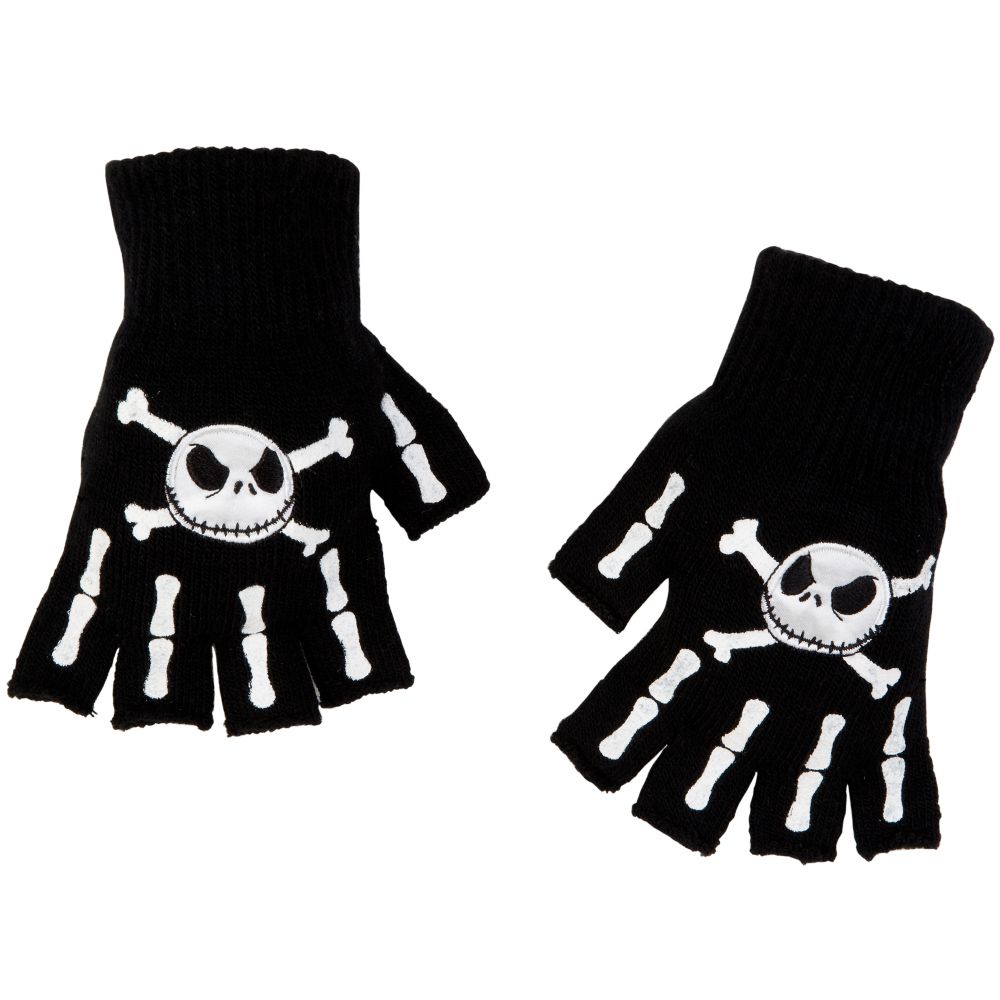 (Picture from: disneystore.com)
This weekend, my mom got me DR. DRE BEATS! I'm so excited! I've wanted them for so long! She also got me an iPhone 4s case, because i just got one. It's clear with a diamond pattern. And yes. Clear is my favorite color. NO JUDGING, okay?
Dr. Dre Beats case
case again
headphones in unzipped case, extra rubber earbud thingies in the pocket
earbud closeup (sorry, I know it's blurry)
included attachable ear hooks
attachable/removable extra rubber earbud thingies (you know what I mean)
Plug
iPhone case! I love it. It looks great with my white iPhone.
Side view, closeup button covers.
I also got a new nail polish: Gold Shatter by OPI, as I mentioned. Picture of it in its bottle:
(Picture from: nailpolishplace.com)
That's it for dessert!
But there's always a doggie bag!
~~~~~~~~~~~~~~~~~~~~~~~~~~~~~~~~~~~~~~~~~~~~~~~~~~~~~~~~~~~~~~~~~~~~~~~~~~~~~~~~~~~~~~~~~~
doggie bag
Blurb of the Day
"I'm not superstitious. It's bad luck to be superstitious."
Saw this on snorgtees.com, and I started cracking up!
~~~~~~~~~~~~~~~~~~~~~~~~~~~~~~~~~~~~~~~~~~~~~~~~~~~~~~~~~~~~~~~~~~~~~~~~~~~~~~~~~~~~~~~~~~
That's all for today, folks! Thanks for reading!
ex oh ex oh, less than three
~janine